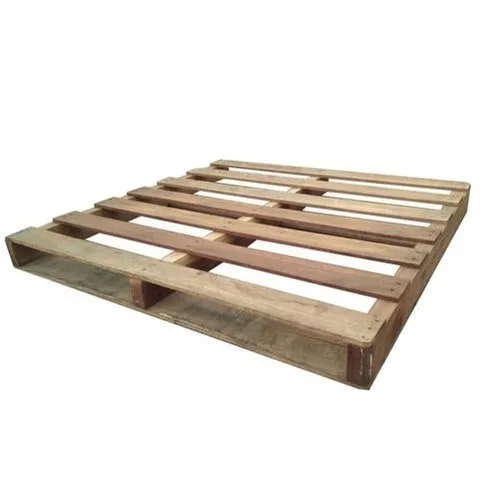 A pallet that is only intended to be raised from two opposing sides is referred to as a two-way wooden pallet. It is built with top and bottom decks, parallel stringers, and deck planks that are perpendicular to each other. A two way wooden pallet manufacturer normally begins by locating premium wood and other components required to build the pallets.
Two-way pallets have two forklift entrance points that only allow for straight-line lifting and movement from the two parallel sides. Two-way pallets, in contrast to four-way pallets, cannot be raised from the sides parallel to the stringers.
Benefits Of Using Wooden Pallets That Are Two-way
When forklifts have access from only two sides, two-way wooden pallets are frequently used in those situations. Only two of their sides can be loaded. Using wooden pallets with two directions has a number of benefits, such as:
Cost-effective
Two-way wooden pallets are a great option for businesses trying to cut costs. They are frequently more economical than other pallet kinds.
Durability
Wooden pallets that can be used both ways are constructed from hardy materials, making them durable. Because of their ability to carry enormous loads, they are perfect for moving commodities across vast distances.
Quickly Fixable
In the case of two-way pallets, one side of the pallet can frequently be repaired, making wooden pallets simple to fix. Consequently, they are a long-term cost-efficient choice.
Favourable To The Environment
Compared to the manufacture of pallets made of other materials, the production of hardwood pallets has a reduced carbon footprint.
Recyclable
Pallets made of wood can be reused, repurposed, or chipped and burned. For businesses aiming to lessen their influence on the environment, this means they are a viable option.
Customizable
Two-way wooden pallets can be made to match particular load specifications, giving them a flexible solution for a variety of applications.
Convenient To Use
Pallets can be handled with a forklift or pallet jack from two different sides. Since they do not take up much space, they are a practical choice for companies with access issues.
Two-way Wooden Pallets Are Used In Innovative Ways
Two-way wooden pallets can be put to a number of inventive purposes, such as:
Diy Tasks
You may make furniture, planters, and storage solutions out of two-way wooden pallets. The use of wooden pallets in inventive ways is covered in a variety of online tutorials and ideas sources.
A Vertical Garden
By screwing planters to the pallet boards, two-way wooden pallets can be made into vertical gardens. If you do not have much outdoor area, this is an excellent solution.
Planters That Are Raised
Raised garden beds can be constructed out of wooden pallets. These are ideal for growing vegetables and herbs in a little backyard or balcony.
Displays For Events
For occasions like weddings and parties, two-way wooden pallets can be decorated and utilised as decor. They can be used to display objects or as seating or backdrops.
Conclusion
There may be a shift towards the use of more uniform pallets as robotics become more common in supply chain management. They are appropriate for automated systems. The supply chain's top priority is always safety. The risk of accidents and injuries is minimised by the design and construction of two way wooden pallets.