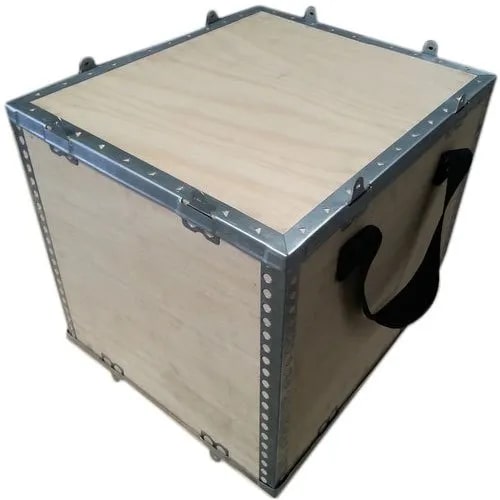 Nailless plywood box has completely changed how goods are secured for transit when it comes to packing and shipping. Nailless plywood boxes are created to interlock with one another without the need for any hardware. In contrast to conventional wooden boxes that are erected using nails and screws.
These boxes, which are made of premium plywood, are strong, resilient, and able to support huge weights. They are perfect for protecting bulky or heavy goods like furniture, machinery, and other tools. The modular design makes assembly quick and simple. It cuts down on the time and labour needed to get the items ready for shipping.
Plywood Boxes Is Durable
You are correct if you think solid wood is sturdy. Yet contemporary plywood may be just as robust. Any problems with the strength of the natural wood supply that are inherent are resolved throughout the plywood production process.
It is composed of wood plies that have been pressure-bonded at various angles with adhesives. By having a cross-grain throughout its structure, plywood has a strength that can support weight equally. Solid wood, on the other hand, only shows strength when weight or force is applied perpendicular to the grain.
Plywood Is Robust
Modern nailless plywood box can bear a lot of in-service stress (from all angles) for a longer period. It has this consistent strength. As a result, it is a more robust substitute for both solid wood and other engineered wood goods.
Also, using plywood boxes without nails offers several benefits over using conventional wooden boxes. They are not only recyclable and kind to the earth, but they also lessen the chance that the items within may be harmed.
This is so that there are no excessive pressure points that might harm the contents of the box during transit. Thanks to the interlocking construction of these boxes, which uniformly distributes weight.
Plywood Is A Thin Material
Plywood is surprisingly a lot lighter than solid wood for all of its strength. This makes using plywood to construct furniture simpler. However, heavier solid wood might be difficult to work with or more labour-intensive. This is both for making furniture and for other industrial uses.
Plywood Is More Malleable And Suitable For Curved Surfaces
When was the last time you had it simple while working with solid wood to create curved surfaces? Very likely never. Yet, if you did do anything similar, the outcomes probably weren't as favourable as you had hoped. Using solid wood to create curved surfaces would likely result in fairly rough and uneven edges.
On the other hand, plywood may be simply and smoothly fitted to any curved surface. Yet, because of its cross-layered structure, plywood doesn't fracture as easily. When handled appropriately, you may shape it to fit a curved surface. Do it by cutting, bending, or driving a nail or screw through it.
Final Words
It's understandable why nail-less plywood boxes are growing in popularity in the packing and shipping sectors. It is because of given their simplicity of construction, strength, and enhanced safety features. These boxes are appropriate for a variety of items, from fragile antiques to large machinery. They are a great alternative for anybody seeking dependable, secure, and environmentally responsible packing choices.